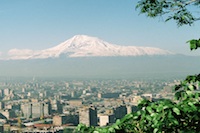 Book cheap flights to Armenia by selecting an airport destination in Armenia below. Compare flights to Armenia from over a hundred airlines worldwide and book online with us today.
Known as the world's oldest Christian nation, the country of Armenia exists to the west of Turkey and Azerbaijan in the southwestern part of Asia. The country is dotted with ancient history in the form of old churches and lush forests that date back hundreds of years.
Armenia is a county of stark desert and glistening lakes amongst thick, deep forests. Its main industries are primarily metals in the form of zinc, gold, and copper, making it an ideal place to purchase copper plates and handcrafted jewellery for an authentic souvenir.
The capital city of Yerevan is the location of the main gateway into Armenia. The Yerevan Zvartnots International Airport is only ten kilometres from the city centre, making transport effortless.
Once you arrive, you can begin your sightseeing adventures by heading off to one of the country's most noted sites, the Greghard Monastery, which has been around since the fourth century. This pilgrimage leads to the most magnificent view the area has to offer. Debed Canyon is a UNESCO World Heritage Site that protects the monasteries of Sanahin and Haghpat. Do not miss a chance to visit the Cathedral of St. Gregory the Illuminator at Echmiadzin, which was once the capital city of Armenia from AD 180-340.
A favourite pastime for locals is to sit back and relax while sipping on some of the region's finest cognac. Combine this with the fresh grilled meat and vegetables that are traditional of Armenian food and you can consider your Armenian country experience complete.