Yerevan Cheapest Fares
To search and book flights to Yerevan in 2020 and 2021, please enter your requirements and click the search button above.
Yerevan Perspectives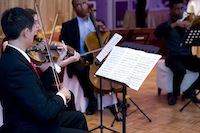 Get a new perspective on Yerevan and the rest of the world with the annual Yerevan Perspectives International Music Festival.
The festival typically runs in the autumn. It showcases the skill of renowned artists from around the world. Internationally acclaimed music ensembles and soloists bring their talents to Yerevan for this yearly celebration of music and culture.
In the past, several well known musicians have performed. This has including the Gulbenkian Symphony Orchestra, world-renowned violinist Pinchas Sukerman and famous pianist Elena Bashkirova. Ensembles such as the Academy of Saint Martin in the Fields and the Hagen Quarter have also performed at this prestigious event.
Yerevan Perspectives is quickly becoming one of the most respected musical festivals of its kind in the world. It has gained a lot of fame by bringing in internationally known and respected performers from a diverse line-up of countries from around the globe. The festival's organiser hope that its prestige will continue to grow and that Perspectives will serve as a way to develop Armenia into a cultural centre of international standing.
The festival draws an international crowd every year. It places Yerevan and Armenia as a cultural crossroads sitting at the centre of the many nations represented at the festival. With a musical range as diverse as the artists themselves, it is no surprise that the festival attracts many music fans every year.