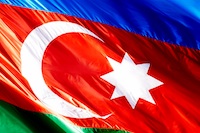 Book cheap flights to Azerbaijan by selecting an airport destination in Azerbaijan below. Compare flights to Azerbaijan from over a hundred airlines worldwide and book online with us today.
Situated between Russian and Iran, Azerbaijan can be found in southwestern Asia along the Caspian Sea. The oil rich country has always been a noted gateway between east and west.
Azerbaijan is home to the spectacular Caucasus Mountains and is a beautiful country of thick green valleys with bouts of desert. It is a relatively unknown country in the way of tourism. Those who do make their way to Azerbaijan will enter into the capital city of Baku, where most of the country's attractions lie. It is also where the Heydar Aliyev International Airport is located.
Sightseeing in Azerbaijan is an exciting venture. Start at the Caspian Sea and visit the walled city of Baku that is a UNESCO World Heritage Site. The Iceri Seher area in Baku is full of elaborate mosques and narrow alleyways. Here you will also discover the Maiden's Tower, which offers a stunning 360-degree view. For hikers, get ready to tackle the Beshbarmaq Dag, also known as Five Finger Mountain, which rises more than 520 metres above the coastline.
There are unique mud volcanoes at Qobustan, as well as Stone and Bronze Age petroglyphs close by. Sheki is an 18th century village of delightful architecture. For authentic products, head over to the Persian town of Lahic where you can purchase copper items. Visitors are advised to take a day here to enjoy local hiking and relish a mountainous break away from the city.