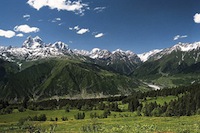 Book cheap flights to Georgia by selecting an airport destination in Georgia below. Compare flights to Georgia from over a hundred airlines worldwide and book online with us today.
Situated between Russia and Turkey, Georgia is unique not only in beautiful scenery but with a diverse and exciting culture influenced by its European and Middle Eastern neighbours. Georgia is developing a sophisticated tourist industry guaranteeing a wonderful visit to every traveller, whatever the budget.
The historic capital city of Tbilisi houses the main international airport and boasts a contrast of modern European architecture, nightlife and entertainment with majestic churches, narrow lanes and a beautiful hillside backdrop. Georgian culture is steeped in folklore and legend so drop into a music, dance, or theatrical venues to learn more about Georgia's colourful past.
Visitors will be guaranteed a warm welcome from the outgoing, and friendly Georgian people, so don't be surprised when strangers buy a drink for guests in local bars or cafes and be sure to respond by toasting everyone's health. Sample the regional wines and choose from a range of middle eastern and Mediterranean style dishes including the national speciality, khinkali, a hearty meat and dumpling stew.
Urbanites can easily enjoy the city sights with local tours and organised walks, whilst out of town there are a wealth of hikes and trails including the Upper Mktvari Valley, the gorgeous Gergeti Glacier and the stunning scenery in Mtskheta, now a UNESCO world heritage site.
The gentle climate is perfect for viticulture as well as other temperate agriculture including nuts and citrus fruits. The hot summers and mild winters ensure a good supply of delicious produce which can be enjoyed in local restaurants, street markets and cafes.