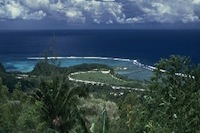 Book cheap flights to Guam by selecting an airport destination in Guam below. Compare flights to Guam from over a hundred airlines worldwide and book online with us today.
Guam is a delightful pacific island paradise, the largest of the small islands of the Federated States of Micronesia. Visitors will experience a traditional friendly welcome to this land of sandy beaches, pretty villages, and picturesque coasts.
The indigenous language is Chamorro but English is most widely spoken since Guam is actually an American territory. The cosmopolitan Chamorro culture is a delightful mixture of influences from the east and west underpinned by a traditional belief in sharing and reciprocity.
Take a flight into A.B. Won Pat international airport towards the centre of the island near the business district. Travellers can easily get around the towns and villages including the capital city of Hagatna on foot; to travel between them there are various taxi firms, a local bus service or car hire can be arranged at the airport and from main hotels.
Guam is a popular destination for scuba divers offering plenty of organised trips to ensure divers experience the best of pacific marine life. Water sports fans will also enjoy fishing, jet skiing, windsurfing and kayaking while land lovers can join regular organised walks known as 'boonie stomps'.
Pick up a souvenir in one of the many interesting markets and stores, making time on a Wednesday to visit one of the fabulous night markets. Take some well-earned refreshment from a wide choice of restaurants and hotels serving a variety of different cuisines reflecting the varied heritage of this vibrant island: sample local fish delicacies including lobster, octopus and sashimi or snack on Chamorro cookies known as roskette or guyuria.