Guam Cheapest Fares
To search and book flights to Guam in 2020 and 2021, please enter your requirements and click the search button above.
Travellers fly to Guam for an exciting tropical holiday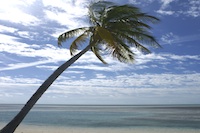 Flights to Guam come cheap during off-peak season but the decision of holidaymakers to visit the vibrant city is not based on how cheap the plane tickets are. Travellers flock to the tropical paradise to experience life in the Pacific while still being in a metropolitan area.
Although the city is popular for its nightlife, adventure-seekers and those who love nature can still have plenty of fun in the island capital.
The tropical holiday destination offers hiking trails for climbing and trekking. The first place to go for such an activity is Mount Lam Lam.
Those who love water, on the other hand, can just enjoy the crystal clear waters either on a jet ski or just swimming near the shore.
The tropical destination was an important base for the US military during the Second World War – with the city having its fair share of historic sites. In fact, the city has 118 historical landmarks.
One of the most intriguing is not a product of the Second World War, though. The area has Chamorro houses dating back to as early as 500AD. Visitors can see these houses at the Latte Stone Park with the park becoming the city's signature landmark.
Two Lovers' Point, or Puntan Dos Amantes, is another place to visit while in the area. The observation platform is famous because of the story that surrounds it. Legend has it that two star-crossed lovers plunged to the waters below tying their hairs together so as not to be separated.