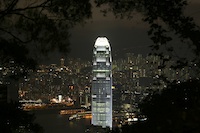 Book cheap flights to Hong Kong by selecting an airport destination in Hong Kong below. Compare flights to Hong Kong from over a hundred airlines worldwide and book online with us today.
Hong Kong is a particularly unique country that is made up of a single city with distinct districts. Each district has its own unique flavour. It is located south of mainland China, and has a heritage that is a mixture of Han Chinese and British.
The main airport in the country is Hong Kong International Airport. It's a modern airport that receives flights from around the world. Its Chinese name is Chek Lap Kok. The main carriers with flights in and out of the airport are Dragonair and Cathay Pacific.
One of the best things about Hong Kong is the sheer number of attractions that are available to travellers. The Ping Shan Heritage Trail is located in the New Territories district, and includes some of the most fascinating religious and cultural sites. Some of the places that you can see include the Temple of the Ten Thousand Buddhas, the traditional bazaar on Shin Fu Street and Tsang Tai Uk, a walled village. The Hong Kong Museum of History is located in the Kowloon District. It features numerous exhibits that are interactive in nature.
Another place that is a popular destination is Lantau Island. It offers plenty of open countryside, quiet beaches, and traditional fishing villages. You can visit some Buddhist monasteries here. There is even a Buddhist theme park called Ngong Ping 360. Another popular attraction on the island is the Disneyland Resort. It is smaller than its American counterparts, but has several fun rides and attractions.
The country's main industry is manufacturing, particularly of electronics. It has few natural resources, and largely depends on China for economic growth.