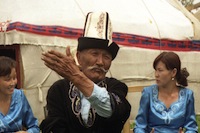 Book cheap flights to Kyrgyzstan by selecting an airport destination in Kyrgyzstan below. Compare flights to Kyrgyzstan from over a hundred airlines worldwide and book online with us today.
The country of Kyrgyzstan lies in Central Asia and displays vast mountainous surroundings and valleys that make it a beautiful natural destination for many tourists. Bordered by Kazakhstan, China, Uzbekistan, and Tajikistan, it is one of the world's six independent Turkic states.
The capital city of Kyrgyzstan is Bishkek, which has a population of around 800,000 people and is situated in the North near the border to Kazakhstan. Located 16 miles from Bishkek, Manas International Airport is the country's main international airport, servicing many other areas of Asia, as well as Moscow and London.
The main tourist attraction of Kyrgyzstan is Issyk Kul Lake, which is the second largest mountain lake in the world. Here you will find plenty of beaches and resorts fit for the most discerning holidaymaker, specifically in the city of Cholpon-Ata. The lake frequently has more than a million visitors per year and makes for a picturesque setting, especially in the summer. Kyrgyzstan's mountainous ground means that there are also many opportunities for camping and trekking. Particularly popular locations are in Osh and the mountains surrounding Issyk-Kul Lake.
The main source of income for the country is its large agriculture industry, which accounts for about half of the country's employment. The range of valleys and mountains means that raising livestock is important, so meat, wool, and dairy products are the country's major commodities. It is also rich in minerals with valuable items such as gold, coal and uranium available in volume.