Bishkek, Tian Shan Mountain City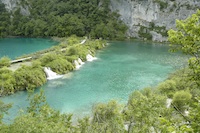 Aside from the fact that Bishkek is home to Spartak, the biggest football stadium in Kyrgyzstan, the best things to see and do in this destination lie outside the city.
Bishkek, at an altitude of 2,600 feet (800 metres) has a spectacular setting amidst towering mountain ranges, glaciers, lakes and valleys, drained by the Chui River, making it the perfect destination for photographic tourism and nature lovers.
The city is an interesting mix of old Soviet apartment blocks with interior courtyards, wide boulevards, marble-faced public buildings and streets lined with narrow irrigation channels used to water the hundreds of trees that give shade in summer.
Excursions to the outlying areas should include a visit to the 200 square kilometre Ala Archa Canyon – a national park in the TianShan mountains with more than 20 glaciers and lakes. This area offers dozens of trails for hikers, horse trekkers and skiers on one of its 50 mountains, but is probably best avoided on the 1st May, when hordes of people camp out in the valley. Wildlife here includes snow leopards, wild goats, roe deer and marmots.
Also not to be missed is Lake Issyk Kul, a saline lake in the Tian Shan mountains – the world's tenth largest lake by volume that reputedly never freezes. It is the site of an ancient, 2,500 year-old metropolis, and archaeological excavations currently dot the landscape.
About 118 rivers and streams, springs and snowmelt feed the lake, but no outlet is visible. There is speculation that deep underwater, the lake filters into the Chui River.