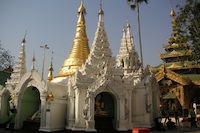 Book cheap flights to Myanmar by selecting an airport destination in Myanmar below. Compare flights to Myanmar from over a hundred airlines worldwide and book online with us today.
The Republic of the Union of Myanmar, more commonly known as Burma since the time of British colonial rule, is in south-east Asia. Home to around 54 million people, it is the largest country in mainland Southeast Asia. Myanmar is bordered by the People's Republic of China to the north-east, Laos in the east, Thailand to the south-east, the Andaman Sea to the south, the Bay of Bengal to the south-west, Bangladesh in the west, and India in the north-west.
While Naypyitaw is the official capital city of Myanmar, its role is mainly administrative. The largest cities in Myanmar are Yangon (also known as Rangoon), and Mandalay, which are also home to Myanmar's two international airports.
Myanmar is a country steeped in culture and history. There is a deep mix of ethnicities, and the country is predominantly Buddhist; this is reflected in the culture of Myanmar. The Shwedagon Pagoda, also known as the Golden Pagoda, is a 98 metre high pagoda, located on Singuttara Hill in Yangon. It is the most sacred Buddhist pagoda in Myanmar, and it dominates the Yangon skyline. It is believed to contain 30 tonnes of gold, although no-one knows for sure.
Religious iconography is plentiful throughout Myanmar, and the city of Bagan is no exception. Bagan was the capital of Myanmar during the rule of the First Burmese Empire; many of its buildings were built between the 11th and the 13th centuries. More than 2,000 ancient pagodas exist in Myanmar. These beautiful structures are an awe-inspiring sight to behold, and restoration work has been undertaken to ensure that their wonder lives on.