Yangon Cheapest Fares
To search and book flights to Yangon in 2020 and 2021, please enter your requirements and click the search button above.
Yangon Offers a Unique Travel Experience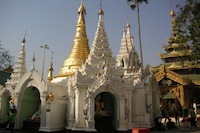 Yangon is no longer Myanmar's capital city, but it remains Myanmar's economic capital. Yangon is a very unique city, with a blend of colonial, regional and local Burmese influences. In recent years, Yangon has modernised, but has a traditional element. All this makes Yangon a very interesting city, making it a worthy destination worth considering.
Yangon is famous for the amazing Shwedagon Pagoda, and rightfully so. This magnificent structure has been around since the 6th century CE, and is the most important religious site in Myanmar. Legend has it that the area around the Pagoda has been sacred since the beginning of time. The towering golden Pagoda is not only an amazing sight, but the area around it is lively and dynamic, with children running around joyfully, monks chatting and women gossiping, all while others are in deep meditation and prayer.
Well-hidden in Yangon is some of the best colonial architecture. During the reign of the British, the British built several magnificent structures in Yangon, including the Holy Trinity Cathedral and the Musmeah Yeshua Synagogue. Take a walk down Pansodan Street to have a look at the amazing colonial architecture, a relic of the colonial era.
As with other South-east Asian countries, Yangon has street markets worth visiting. The most notable market in Yangon has to be the Scott Market, which is an excellent place to buy Burmese handicrafts such as wood carvings, which would make great mementos of your trip.
There is so much to see and do in Yangon. Why not consider Yangon as your next destination?