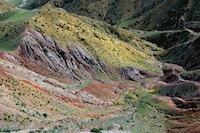 Book cheap flights to Mongolia by selecting an airport destination in Mongolia below. Compare flights to Mongolia from over a hundred airlines worldwide and book online with us today.
Mongolia is a large country in the heart of Asia, with an area of 1.5 million square kilometres, and a population of under 3.2 million people – making it the most sparsely-populated independent country in the world. Its north side is bordered by Russia, and its south, east and west borders are wrapped in the People's Republic of China.
The second-largest producer of cashmere in the world, this mystical Eastern land's other main industries lie in agriculture and the breeding of livestock. With its large nomadic population – approximately 30% of the total number of citizens – there is a refreshing freedom about this country that cannot be found in many other places.
Be prepared to step into a time warp; as you wander through the rural areas of Mongolia, you will experience some of the delights long-forgotten eras have to offer, as if the new-aged, contemporary world has somehow left this beautiful and mysterious country behind.
Perhaps your dream holiday destination has a more urban tinge, in which case, once you've flown into Chinggis Khaan International Airport (the only airport in Mongolia that offers international flights), you might want to travel 18 kilometres north-east to Mongolia's exotic capital city, Ulaanbaatar. Here you can encounter many of the wonders of Eastern culture, including its range of striking Tibetan Buddhist architecture, ancient monasteries, and historic museums.
Whether you're riding a camel through the Gobi desert, or a horse and cart through the streets of Ulaanbaatar, you'd be hard-pressed to find fault with this marvellous destination.