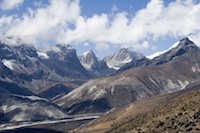 Book cheap flights to Nepal by selecting an airport destination in Nepal below. Compare flights to Nepal from over a hundred airlines worldwide and book online with us today.
Nepal – or the Federal Democratic Republic of Nepal, as it is officially known – is a landlocked nation in southern Asia, sitting between India and China. This exotic country, whose main industry is agriculture, is just a little larger than England, and is home to around thirty million inhabitants.
Nepal has a fascinatingly diverse landscape, climate and culture. Sitting against the backdrop of the awe-inspiring sights of the Himalayas, the vast differences in topography this country has to offer will give you a rare opportunity to experience temperatures ranging from the extreme Arctic, to the sweltering tropical – all in one holiday.
You will fly into Tribhuvan International Airport, the sole international airport in Nepal, and step off the plane into the warm climate of its famous capital city, Kathmandu. Whilst you're here, you will surely delight in Kathmandu's overwhelmingly exciting, bustling atmosphere, and fast-paced way of life, not to mention its delightful artistic and cultural heritage, which seeps through the streets and makes this a truly unique city.
If you enjoy trekking, you will have come to the right place. Nepal boasts some of the world's most inspiring trekking trails, and stunning views that can only be described as out of this world – not least, the colossal beauty of Mount Everest, the tallest mountain in the world.
Famed for its strikingly friendly citizens, this country can offer you white water rafting, bungee jumping, elephant rides, safaris, fine dining, raw culture or simply blissful relaxation. There is something for everyone in Nepal.