Kathmandu Cheapest Fares
The lowest fare found to Kathmandu (KTM) was £477 with Turkish Airlines. The fares shown here are the lowest flight prices to Kathmandu obtained in actual searches by Just The Flight customers. To search and book flights to Kathmandu in 2022 and 2023, please enter your requirements and click the search button above.
The Garden of Dreams: The Eye of a Hurricane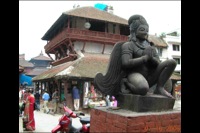 The capital city of exotic Nepal is nothing if not a crazy, fast-paced treasure trove of winding streets, mystical delights and the hustle and bustle of an Eastern city. When you step off your flights at this destination, you will undoubtedly be overwhelmed, in a good way, by the vibrant culture shock that is Kathmandu.
So when you've absorbed everything about this exciting, non-stop city, where can you go – besides your hotel room, that is – when you need to relax and unwind? The answer is the Garden of Dreams, a jaw-dropping haven of peace and tranquillity in the heart of a mad, mad world.
This work of art was a private garden created by Field Marshal Kaiser Sumsher Rana in the 1920s and inspired by the elegant style of the Edwardian era. It was handed over to the government of Nepal after Kaiser Sumsher's death, and, after a period of neglect, turned into the pubic masterpiece it is today.
Here, you will feel as though you are sitting inside the eye of a hurricane. An oasis of utter bliss. It is one of Kathmandu's best-kept secrets, so don't fear heaving crowds of tourists, there aren't any. If you blink you might miss it, so look out carefully as you walk down from the old Royal Palace towards Thamel for a small entrance on your right hand side. Open from 9amuntil 10pm, this gloriously beautiful historic neo classical garden gives you that much-needed break, day or night.