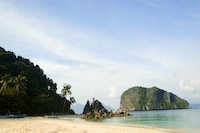 Book cheap flights to Philippines by selecting an airport destination in Philippines below. Compare flights to Philippines from over a hundred airlines worldwide and book online with us today.
The Philippines is made up of 7,107 islands scattered across the Pacific Ocean: hidden gems and totally unspoilt. Not frequently visited by tourists, the Philippines provides a fantastic opportunity for tourists to get off the beaten track.
The key international airport for the islands is the Manila Ninoy Aquino International Airport, which is about 7km out of Manila city centre, the capital of the Philippines. It is a lively, vibrant city and the most bustling in the Philippines.
There are beautiful beaches across the Philippines but Boracay Island has some of the most perfect ones. Just as peaceful as the beaches are some of the backwaters on islands like Siquijor, Camiguin and Bohol. If you are there at the right time of the year you might even see the Butanding whale sharks on their annual migration past Luzon Island.
There are some fantastic diving spots, including an eerie graveyard of shipwrecks from the Second World War at Coron on Busuanga. It is very easy to get around the islands by ferry and there are colourfully decorated stretch jeeps which are used as buses on the islands. Palawan has a superbly rugged terrain and visitors can hire a dirt bike to explore the area.
Some of the key industries on the islands include electronics, garments, footwear, pharmaceuticals, chemicals, wood products, food processing, petroleum refining and fishing. Just over 30% of the population makes their living through agriculture. There is plenty of home grown produce on the islands including sugarcane, coconuts, rice, corn, bananas, cassavas, pineapples and mangos.