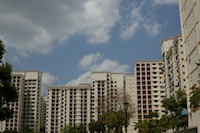 Book cheap flights to Singapore by selecting an airport destination in Singapore below. Compare flights to Singapore from over a hundred airlines worldwide and book online with us today.
Singapore is a country made up of a group of 63 islands off the Malay Peninsula in Southeast Asia. Mostly urban in its make up, Singapore is a hive of activity. Singapore has the world's fourth leading financial centre, as well as one of the world's five busiest ports. This success was largely achieved following the country's independence from Britain in the 1960s.
Visitors to Singapore can expect to experience one of the most enjoyable cities in southeast Asia. With massively efficient transport and infrastructure, the city is a far cry from some of the transport chaos experienced in cities like Beijing. Singapore Changi International Airport is very highly regarded and is often ranked as one of the best in the world. If high fashion shopping is your thing, a trip to the boutiques on Orchard Road are not to be missed. Singapore's city parks are beautiful and impeccably maintained and make a walk through the city enjoyable.
For those who like to party, Singapore has a vibrant and varied nightlife, enough to cater to many tastes. Whether drinking and dancing until dawn in one of the city's many night spots, or sipping cocktails on a sophisticated hotel veranda, Singapore will surely satisfy.
A major passion of most Singaporeans is food. The city has a wide array of restaurants which will suit any budget. From the upmarket stylish and innovative restaurants to the more modest street food places, Singapore has it all.