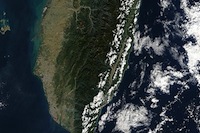 Book cheap flights to Taiwan by selecting an airport destination in Taiwan below. Compare flights to Taiwan from over a hundred airlines worldwide and book online with us today.
The country of Taiwan is situated off the south-eastern coast of China, it is also north of the Philippines and southwest of Okinawa.
The five largest cities in Taiwan are its capital city Taipei, Kaohsiung, Taichung, Tainan and Panchiao.
Taiwan has some very impressive scenic sites and is also a centre of Chinese pop culture. Places of interest to visit include Taipei, Hsinchu, Hualien, and Kaohsiung. The two main airports in Taiwan are CKS International Airport and Kaohsiung International Airport. There are many things to see in Taipei including the Chiang Kai-shek Memorial Hall, Taipei 101, which is the second tallest skyscraper in the world, the Sun Yat-sen Memorial Hall, the National Theatre Hall and National Concert Hall, the National Taiwan University and The Grand Hotel.
Hsinchu is the oldest city in Northern Taiwan and contains parks and scenic sites including Eighteen Peaks Mountain, Hsinchu Botanical Garden, Green Grass Lake and Hsinchu Zoo. Hualien is one of the most pleasant cities in Taiwan, things to be seen here include the Abode of Still thoughts, Yenpin Prefectural Temple, Pine Garden, Chishingtan, and Hualien County Stone Sculpture Museum. Kaohsiung is the second most populated city in Taiwan and has over 2.7 million inhabitants; places to visit here include ChiHou Lighthouse, ChiHou Fort and TianHou Temple.
Electronics, chemicals, vehicles and petroleum refining, are just a selection of the many major industries in Taiwan