Taipei Cheapest Fares
To search and book flights to Taipei in 2022, please enter your requirements and click the search button above.
The Lantern Festival of Taipei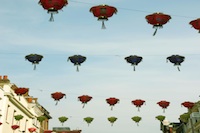 Taipei is the capital of Taiwan or, to give it its correct title, the Republic of China and most flights into the city land at Taiwan Taoyuan International Airport. Owing to its status, the city of Taipei is the cultural, social and administrative centre of the entire country. From the perspective of a tourist destination, Taipei is a city that has a variety of attractions and festivals on offer. The foremost of these is The Lantern Festival, which has received much recognition all over the world, thanks to the high level of media attention and interest from Hollywood film studios.
The Lantern Festival, as the name suggests, is characterised by the lighting of numerous sky lanterns. In addition to these, the city also sees dazzling laser displays, which complement and supplement the sky lanterns. The Lantern Festival is not a single day event, but is held over several nights. The exact date of the festival varies, but it always begins on the fifteenth day of the Lunar New Year, according to the beliefs of the citizens of the country.
There are primarily two areas, in this wonderful tourist destination, where The Lantern Festival is best viewed from. The first is between Sun Yat San Memorial Hall and the grounds of Taipei City Hall, where the main event is held. The second place where the proceedings can be best experienced is Renai Road, where the informal collection of lanterns results in an amazingly lit street.