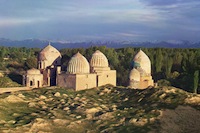 Book cheap flights to Uzbekistan by selecting an airport destination in Uzbekistan below. Compare flights to Uzbekistan from over a hundred airlines worldwide and book online with us today.
The country of Uzbekistan is bordered with Afghanistan, Kazakhstan, Kyrgyzstan, Tajikistan and Turkmenistan.
The capital city of Uzbekistan is Tashkent. Other large cities in the country include Namangan, Samarkand and Andizhan.
Uzbekistan is rich in history and has kept its architectural heritage. Places that must be visited in Uzbekistan include Tashkent, Andijan, Bukhara, and Khiva. The major airports of Uzbekistan are Taskent Airport, Samarkand Airport, Bukhara Airport, and Urgench Airport.
Tashkent is an ancient city that is based on the road from China to Europe, which is known as The Great Silk Road. Even though little remains of the city due to an earthquake in 1966, there are still several places of interest in Tashkent including, Abdulkasim, Medressah, Khavendi Takhur Sheikh Mausoleum and Kaldyrgach-bly Mausoleum. Andijan is based in the Ferghana Valley of Uzbekistan and is an Islamic region. Bukhara used to be one of the great trading cities along the Silk Road and is home to a variety of tourist attractions that include Kalyan Miaret (Tower of Death), Ark Citadel, Lyabi-khauz and Ismoil Somoni Mausoleum. The town of Khiva is based in western Khorezm, which is in the Uzbekistan Republic. It is a significent historical site that is often overlooked and includes many places of interest such as Kutli Murad Inak Medressa, Khan Anush Mohammed's Bath, Uc Avlija Mausoleum and Tash Chauli.
The major industries in Uzbekistan are engineering, chemical, petrochemical, metallurgy, electronic mining, transport, and food processing, real estate and power industry.