Tashkent Cheapest Fares
The lowest fare found to Tashkent (TAS) was £431 with Aeroflot. The fares shown here are the lowest flight prices to Tashkent obtained in actual searches by Just The Flight customers. To search and book flights to Tashkent in 2022 and 2023, please enter your requirements and click the search button above.
Priceless Koran Kept In Tashkent Crypt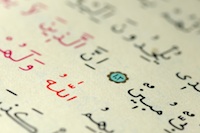 The eccentric capital of Uzbekistan is home to the world's oldest copy of the Koran, a priceless artefact that is attracting a lot of attention following the recent record-breaking sale of a similar item.
Even though only an estimated one-third of the original book has survived, the Koran is said to be priceless. The book dates from the seventh century and, in order to ensure longevity, is kept in a special glass-fronted vault. The 'priceless' tag that the Tashkent Koran has attracted is a curious concept, as a copy of the Koran that is a mere 800 years old and is believed to be the oldest known copy written in gold, recently sold at auction for 1.1 million pounds. Similarly, a nearly complete copy of the Koran from the 10th century sold for nearly one million pounds.
In something reminiscent of an Indiana Jones film, this historically important piece of literature is housed in a non-descript building, hidden in a network of dusty roads in the bowels of an ancient city. The house doubles as a library for some of Central Asia's most historical works. The building has nearly 25,000 books and manuscripts on topics as diverse as medieval history, astronomy and medicine.
Tashkent is an historic Muslim city in Central Asia but it was subjected to 70 years of communist rule. The Soviet architectural influences and Russian dialects contradict the buzz of the bazaar and the burgeoning social scene that the more cosmopolitan members of Tashkent society are now enjoying.