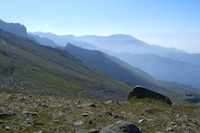 Book cheap flights to Afghanistan by selecting an airport destination in Afghanistan below. Compare flights to Afghanistan from over a hundred airlines worldwide and book online with us today.
Located in southern Asia, Afghanistan is a landlocked country that lies to the north and west of Pakistan and east of Iran. It shares borders with several other countries, including China, Iran, Pakistan, Tajikistan, Turkmenistan, and Uzbekistan.
This beautiful country, which is home to an abundance of unspoilt countryside and the Hindu Kush Mountain range, has seen many years of war and neglect. Despite this history, the country nevertheless has a lot to offer those who visit. With such a vast landscape, it is no surprise that the major industry in Afghanistan is agriculture. The country is simply bursting with natural beauty and ancient monuments that once included the giant Buddha statues of Bamiyan.
Although the Taliban destroyed the Buddha statues, a trip to Bamiyan will have tourists in awe of the remains of these once great statutes. Only 17 kilometres (11 miles) from Bamiyan is the city of Shar-i-Zahak, also known as the Red City, where other ancient citadels remain. The ancient city walls of Bala Hissar, which is an ancient mountainside fortress, offer spectacular views over the capital city of Kabul.
The Kabul International Airport is the main international airport serving the northern part of the country. The second largest airport in Afghanistan is the Kandahar International Airport, which serves the southern portion of the country.
Authentic local goods include Turkman hats, Istaff pottery, Nuristani woodcarvings, Nomad jewellery, Kandahar embroidery, and handcrafted items such as glassware, rugs, carpets and silk ware.