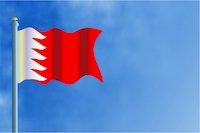 Book cheap flights to Bahrain by selecting an airport destination in Bahrain below. Compare flights to Bahrain from over a hundred airlines worldwide and book online with us today.
Belonging to an archipelago of 33 islands in the Persian Gulf, Bahrain, which means Two Seas, is located just east of Saudi Arabia in the Middle East. The oil rich country has developed into a modern city of sky-high towers and manufactured islands.
The country has enjoyed a rather affluent existence since the discovery of black gold in 1932. Although it is filled with many historical monuments, burial grounds, and craft markets, the country retains memories, if ever so slight, of the background of the country's wealth.
Sightseeing in Bahrain is great for the adventurous at the Al-Areen Wildlife Park and Reserve. It is here that visitors can experience what life in the desert is really like. There is always the 16th century Bahrain Fort or the local souks to explore. The best of these maze-like markets is Bab al Bahrain, where endless stalls of flowers, sheeshas, coffee, perfumes, and sizzling kebabs await.
For a unique and unforgettable experience, hop over to the Formula One Racetrack for a 90-minute tour of the circuit. Visit the Hawar Islands via a 40-minute boat ride for a day of open water fun. Visitors can also check out Gold Cit at central Manama, where you will find a collection of the best gold shops in the Middle East.
The main international airport is located in Bahrain with services to major international cities around Africa, Australia, Asia, Europe, and the Far East.