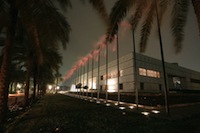 Book cheap flights to Kuwait by selecting an airport destination in Kuwait below. Compare flights to Kuwait from over a hundred airlines worldwide and book online with us today.
Kuwait is an Arab nation located in the north-east of the Arabian Peninsula in Western Asia. It is bordered by Saudi Arabia and Iraq and is renowned for its huge oil reserves, which is the main reason why it is thought to be the fifth richest country in the world.
Kuwait's main international airport is Kuwait International Airport, located in Farwaniyah, under ten miles south of capital Kuwait City, which is situated by the shore of the Persian Gulf. There are no rail links at present although plans are afoot for the near future, meaning that any travelling on land is by automobile. Thankfully then, the highways of Kuwait are extensive and well maintained, meaning that travel is not uncomfortable. In addition, with its small size, journeys around the country would not eat up too much of your day.
With its extremely warm climate, Kuwait is not known as a popular holiday destination, but looking at some of its attractions, it is hard to see why. Most of the tourism is centred around Kuwait City, such as Aqua Park and the brilliant Entertainment City, known as the Disneyland of Kuwait. The shores of the Persian Gulf are home to plenty of beaches, with activities for all the family. There is also an ice rink, a zoo and the fantastic Musical Fountain - the fourth largest in the world.
Kuwait's wealthy state is due to its massive oil reserves, accounting for 10% of the world's reserves. Despite this, the country is looking to decrease its reliance on oil to make money from its other industries, such as food processing, construction, and ship-building.