Cheap Flights to Kuwait (KWI) from UK Airports
Book flights to Kuwait
Kuwait Cheapest Fares
To search and book flights to Kuwait in 2022 and 2023, please enter your requirements and click the search button above.
Eid Comes to Kuwait in Style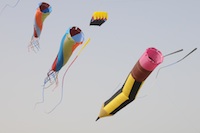 Kuwait has become quite the destination for experiencing the Islamic festival of Eid al-Adha. Eid is held in the festival month each year, and though the date varies, it coincides around the time of the Hajj, often taking place in September or October, when Muslims make their pilgrimage to Mecca in Saudi Arabia. Kuwait is full of much celebration during Eid al-Adha. To celebrate, people dress up in new clothes, decorate their houses, and hold fireworks parties. Gifts are given to children; families and friends take extra time to visit each other and enjoy each other's company. Many Muslims also take this opportunity to invite their non-Muslim friends and co-workers to the festivities, as an expression of peace and goodwill, so that they can better understand Muslim culture. Camel racing is another popular event during Eid, and has experienced a recent surge in popularity. It was once considered a traditional sport, but is becoming more modern and relevant to Kuwaiti culture. Races commonly involve up to sixty camels racing up to six kilometres in distance, making it a challenge for well-bred camels. Whilst the image of camels is usually that of a slow but dependable animal, they are capable of significant speed despite their size.
The festival of Eid al-Adha in Kuwait allows travellers to enjoy a fusion of modern and traditional Muslim culture. This rich and meaningful cultural experience, combined with the spectacular beauty of Kuwait, make this a destination worth visiting.