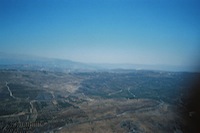 Book cheap flights to Lebanon by selecting an airport destination in Lebanon below. Compare flights to Lebanon from over a hundred airlines worldwide and book online with us today.
Lebanon is located in Western Asia, on the East shore of the Mediterranean Sea. Known for its warm climate and mountainous terrain, it is a very popular country for visitors. The capital city is Beirut, which is on the west coast and is known as the 'Paris of the East'. It is there that is also the home of Lebanon's main international airport, Beirut Rafic Hariri International Airport, which includes services to several European destinations such as London as well as other Asian countries.
With its beautiful surroundings and long beaches, Lebanon is a great place to relax, but it is also regarded as the party hotspot of the Arabic world, with plenty of resorts and nightclubs to indulge in at districts such as Gemmayze and Mar Mikhael. However, Beirut is the centre of tourism in Lebanon. It too has a renowned nightlife but also features excellent shopping, cuisine and sightseeing opportunities. The unique sights of modern buildings mixed with Arabic relics makes for a distinctive skyline. Another unique feature of Lebanon is the ability to go skiing in the morning and relax on the beach in the afternoon. This is thanks to the country's mountain range rising up from a narrow coastline.
Lebanon has two main areas of industry, with reliance on banking and tourism meaning that the services sector makes up around 65% of the country's employment. With tourism being so high on the agenda, a trip to Lebanon is guaranteed to satisfy any holidaymaker.