Beirut Cheapest Fares
To search and book flights to Beirut in 2022, please enter your requirements and click the search button above.
Exotic Flowers in Beirut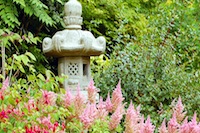 Every May, the Beirut Hippodrome hosts the annual Garden Show and Spring Festival. Garden lovers can stroll through the aromatic displays of exotic plants and visit the stalls decked out with garden accessories, garden furniture, healthy food and local crafts. There are also master classes and courses from experts in all aspects of gardening, and concerts. The Garden Show and Spring Festival is a not just a gardening show but a festival to celebrate the great Lebanese outdoor way of life. Local florists can compete against each other in competitions.
Beirut is not an obvious holiday destination because most of the city was devastated by the civil war, although most of it has now been restored. It is a very interesting destination, however, because of the eclectic mix of people living there. There are so many different religions and cultures represented in Beirut, making it a great destination for those who love people watching. The long seaside promenade, the Corniche, replaces parks and public gathering places in a city that has few green areas. There are wonderful views of the coast from the Corniche, including Pigeon Rocks, which is a group of rocks set in a cove in Raouche. This is a popular place for evening drinks.
Beirut is a city that never sleeps. At nightfall, Beirut offers restaurants, pubs, clubs and coffee rooms. The ochre streets are enchantingly lit and the entertainment on offer includes gastronomic cuisine and non-stop dancing.
Beirut Rafic Hariri is a large international airport with flights from all over the world.