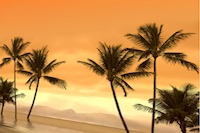 Book cheap flights to Bermuda by selecting an airport destination in Bermuda below. Compare flights to Bermuda from over a hundred airlines worldwide and book online with us today.
Bermuda is located off the coast of North America and is one of a collection of islands in the North Atlantic. With 103kms of coastline, the country enjoys a mild, sub-tropical climate and its tourist industry benefits greatly from this. The main airport in Bermuda, L.F Wade International Airport, serves flights to and from Europe and the United States and is the only one in the country. Bermuda's capital city is Hamilton, which is located to the north of Hamilton Harbour, the country's main port.
There are many tourist attractions and sightseeing opportunities, with Hamilton Harbour and Somerset Bridge being among the most popular. Bermuda also has some of the world's most spectacular beaches, with fantastic coral reefs and crystal clear waters. There are plenty of tours and excursions available in the country, so tourists can make the most of their time. Trips are offered to the heritage town of St George, Hamilton City, some of the beautiful caves and forts and Somerset Village.
Bermuda's major industry is the services sector, with its luxury hotels and resorts maintaining a reputation for being some of the finest in the world. With limited arable land, the country's agriculture industry is small and it relies heavily on imports of clothing, fuel, machinery and most food. International business is growing in Bermuda, but it is the tourism industry that continues to thrive, year after year. More and more visitors are experiencing a taste of this beautiful country and even more are returning time and time again.