Bermuda Cheapest Fares
To search and book flights to Bermuda in 2020 and 2021, please enter your requirements and click the search button above.
Bermuda Cruising Yacht Race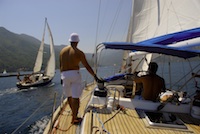 The waters of Bermuda are renowned for their beauty. Many have flocked to Bermuda to get a chance to experience those waters. In June, sailors get the ultimate Bermuda experience with the Marion to Bermuda Cruising Yacht Race.
The race starts in the United States, in Marion, Massachusetts, but ends in beautiful Bermuda. It spans 1,038 kilometres. Yachts and crews participate primarily for the joy of sailing, but the race is also a competition. Camaraderie builds between the competing teams as the take part in this long and thrilling event.
Anyone with a yacht or a love of cruising is welcome to participate, from seasoned crews to amateurs. The race's website helps participants prepare for the race, even hosting a safety symposium to ensure that all participants are well equipped for the lengthy journey. Participants are encouraged to become familiar with how to cope with weather conditions, among other things. The organisers even provide for post-race preparations, where teams can gather for a friendly on-land retreat in Bermuda.
The Marion to Bermuda Race is the official host and sponsor of the race. It is also a group that promotes several educational efforts and supports youth sailing programmes throughout the year. Crews must register in advance to take part in the race. Registration includes a Bermuda Reception and Dinner on the day the race ends.