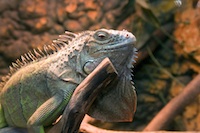 Book cheap flights to Dominica by selecting an airport destination in Dominica below. Compare flights to Dominica from over a hundred airlines worldwide and book online with us today.
Dominica is an island situated in the Caribbean and its official title is Commonwealth of Dominica. It lies south of Guadeloupe and north of Martinique. It is a relatively small and undisturbed island, measuring only 300 square miles. Its highest point is Morne Dialotins with an elevation of over 1400 metres. It has a population of just over 70,000 people and its capital city is Roseau.
One of the most important features of Dominica is the unspoiled natural habitats on the island. It has been described as the "Nature Isle of the Caribbean" due to the beautiful scenery present on the island. Main airports within the country include Santa Domingo International Airport, which airlines fly to from around the world, the Puerto Plata International Airport with a single terminal, and La Romana International Airport, which is a gateway to many of the popular resorts. Some of the main tourist attractions include Dominica's volcano and its boiling lake, which is the world's second largest. The island has lush mountains and rainforests as well as being the natural habitat for rare plants, animals, and species of bird. The island features some very dry areas and others with a near tropical rainfall. Dominica's economy is highly dependent on tourism and as a result, the natives are very welcoming towards tourists and willing to accommodate all requirements. The island's national bird is called a Sisserou Parrot and features on the national flag.