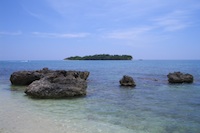 Book cheap flights to Jamaica by selecting an airport destination in Jamaica below. Compare flights to Jamaica from over a hundred airlines worldwide and book online with us today.
Jamaica is located west of Hispaniola and south of Cuba in the Caribbean. Due to its location, it is commonly visited by cruise ships. The island enjoys a consistently warm climate all year.
Kingston, on the south-eastern part of the island, is the capital, and is a common destination for tourists. Montego Bay, in the north-west, is home to several of the country's most popular beaches. Ocho Rios, in the north, is another popular resort location.
The country has two international airports. Norman Manley International Airport is located in Kingston. Donald Sangster International Airport is found in Montego Bay.
A popular place to visit is Nine Mile, which is the burial spot of Bob Marley. While you are on your way, you can enjoy a nice hike into the mountains. If you go to the capital, you can visit a museum dedicated to the singer. While you are here, visit the National Gallery, Devon House, and Hope Botanical Gardens. You can also visit the site of Port Royal, which was home to a lot of pirate activity in the 17th century. Try to visit Ocho Rios, where you can see Dunn's River Falls. These waterfalls are a very impressive sight. There is also a private beach located near the falls.
Agriculture and mining have traditionally been the premier industries in Jamaica. Manufacturing and the services sector also play a major role in the local economy. Tourism continues to be a major industry, and one that contributes significantly to the economy.