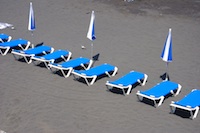 Book cheap flights to Martinique by selecting an airport destination in Martinique below. Compare flights to Martinique from over a hundred airlines worldwide and book online with us today.
Martinique is an overseas region of France that is located in the eastern Caribbean Sea. It is close to Dominica, St Lucia, and Barbados. Despite the location, it retains a mainly French culture, using the Euro currency and French as its main language. Of course, the advantage of the location means that there are many beaches and seaside activities to enjoy for tourists.
The capital is Fort-de-France, which is situated on the west coast of the island. It contains cathedrals, gardens, and museums to explore on arrival. Your flight will land at Martinique Aimé Césaire International Airport, with flights mainly around the Caribbean or to France. There are three other forts to see as well, in Fort Desaix, Fort Tartenson, and Fort Gerbault, which date back to the 18th century. Saint-Anne at the base of the island is another popular destination for tourists, as it boasts some of the best beaches on the island such as Anse des Salines and Anse Michel. There are also hiking opportunities as well as water sports to enjoy.
Tourism is a growing sector in Martinique, but much of the country's economy is built on trade. Large quantities of sugar cane and banana are exported, while fishing and agriculture also plays a part. However, much of Martinique is dependent on imports from France. Despite that, with the tourism industry booming and plenty of beaches and history to explore, Martinique could be the perfect place to enjoy your holiday.