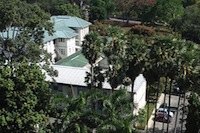 Book cheap flights to Trinidad and Tobago by selecting an airport destination in Trinidad and Tobago below. Compare flights to Trinidad and Tobago from over a hundred airlines worldwide and book online with us today.
The country of Trinidad and Tobago consists of two Caribbean islands that are just off the north-eastern coast of Venezuela.
The capital of Trinidad and Tobago is Port-of-Spain with other large cities including Chaquanas, Mon Repos, San Fernando and Arima.
Trinidad and Tobago has many different people and cultures living together in peace and harmony. Trinidad is the larger of the two islands and contains most of the activities. Tobago is mainly known for its tourism as it is a popular tourist destination. The main places to visit in Trinidad and Tobago are Port-of-Spain, San Fernando and Scarborough. The main airports in Trinidad and Tobago are Piarco International Airport and Crown Point Airport.
Port-of-Spain is located on the northwest coast of the Trinidad Island and is a very busy and friendly city. It is a great place to spend a couple of days. The main attractions to see in the capital are the beaches, the Trinidad Carnival, and the Royal Botanic Gardens. San Fernando is built on hills in Trinidad with its main points of interest being The San-Fernando hill and the San Fernando Mission. Scarborough is the main city situated on the island of Tobago where the Bucco Reef is a main attraction as well as the Glass Bottom Boat tours on the nylon pool, which is an area of shallow water on top of the reef.
The main industries in Trinidad and Tobago include agriculture, cement, and fertilisers.