Port Of Spain Cheapest Fares
The lowest fare found to Port Of Spain (POS) was £577 with American Airlines and the cheapest direct flight was £763 with British Airways. The fares shown here are the lowest flight prices to Port Of Spain obtained in actual searches by Just The Flight customers. To search and book flights to Port Of Spain in 2022 and 2023, please enter your requirements and click the search button above.
The Port of Spain Carnival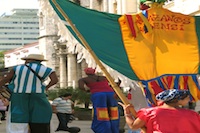 Port of Spain is the capital of the Caribbean islands of Trinidad and Tobago. The city of Port of Spain is regarded as being very tourist friendly and its biggest draw has to be the annual carnival, which is held here in the month leading up to the start of Lent. Although the carnival is celebrated all over the country, Port of Spain is the hub and as might be expected, this is where the most expensive and spectacular costumes and floats are to be found.
Carnival actually covers an entire holiday season and usually lasts for more than 30 days. Everything begins fairly quietly and then gradually increases in intensity until it culminates in an extravagant, larger than life celebration that takes place over the three days preceding Ash Wednesday.
Perhaps the best way to describe the carnival is to say that it is a festival that consists of costumes, dance, music, competitions, partying and rum. The National Panorama, a steel band competition for which the country is internationally renowned, dominates the initial festivities. This is followed by Dimanche Gras, which is held on the Sunday before Ash Wednesday; J'ouvert, which is held on the Monday before Ash Wednesday and Carnival Tuesday, on the last day before Ash Wednesday.
All flights to Port of Spain land at the city's Piarco International Airport, which is approximately 45 minutes from the city centre. The destination is served by numerous international airlines from countries around the globe.