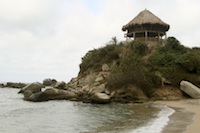 Book cheap flights to Belize by selecting an airport destination in Belize below. Compare flights to Belize from over a hundred airlines worldwide and book online with us today.
Belize is certainly considered a treasure in this part of Central America with its Mayan temples, Barrier Reef, national parks, archaeological finds, marine life, wildlife sanctuaries, superb caves, and canopy jungles.
Located between Mexico and Guatemala, Belize borders the Caribbean Sea in Central America. The country is comprised of a variety of cultures, ethnic groups, and languages, making it an exceptionally memorable place to visit. The local people are made up of East Indian, Creole, Mestizo, English, Mayan, Garifuna, Spanish, Lebanese, Mennonite, and Chinese cultures.
For those who arrive via plane, the main international airport, Philip S.W. Goldson International Airport, is located along the outskirts of Belize City. This makes venturing out into other parts of the country quite easy.
There is so much to see and do when visiting Belize that finding a starting point could prove to be difficult. Exploring the Actun Tunichil Muknal Cave near the Tapir Mountain Nature Reserve is the best way to view the secrets of Mayan life. Visitors might also head to the Mayan ancient ruins at Xunantunich.
One of the most notable sights of Belize is the Blue Hole. This massive sinkhole measures more than 1,000 feet (300 metres) across and more than 400 feet (120 metres) deep. It is one of the best dive sites in the world. The Ambergris Caves are also ideal spots for snorkelling and diving.