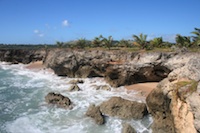 Book cheap flights to Haiti by selecting an airport destination in Haiti below. Compare flights to Haiti from over a hundred airlines worldwide and book online with us today.
Haiti is one of two countries located on the Caribbean island of Hispaniola, with the Dominican Republic being the other. Though the country was initially conquered by the Spanish, it was later ceded to the French. The country became independent during the early 19th century. It is well-known for being the first black republic.
The principal city is Port-Au-Prince, which is home to the country's international airport. It is located on the country's south-western coast. The next-biggest city, Cap-Hatien, also has its own airport. It is found on the northern coast.
In Haiti's capital, you can see the ruins of the National Palace and Cathedral of Our Lady of the Assumption. Both buildings were destroyed in the 2010 earthquake. The Musée du Panthéon National Haïtien is dedicated to Haitian history, beginning from the arrival of Columbus. One of the things that you can see here is the anchor from the Santa Maria. If you go to Cap-Hatien, you can explore the Cathedral there, along with some buildings that are great examples of colonial French architecture. A number of good restaurants are found here. The bay area features a promenade with a beautiful view. From here, you can easily access Milot, which is home to Sans Souci, a World Heritage site.
The majority of the nation's economy depends on agriculture. Most of the farming is performed on a smaller scale by subsistence farmers. The area around the capital also sees some economic activity from the cruise industry.