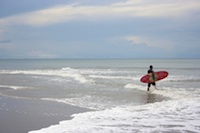 Book cheap flights to Panama by selecting an airport destination in Panama below. Compare flights to Panama from over a hundred airlines worldwide and book online with us today.
Delightful Panama connects Central America's Costa Rica to Colombia in South America. Often described as the "waistline of the Americas", it has an 80km canal linking the Atlantic to the Pacific.
You are spoilt with things to do in this country, but exploring the Panama Canal, with its huge freighters and Capuchin monkeys, is a must.
Its capital, Panama City, is often the main point of entry and departure for tourists with the Panama City-Bay County International Airport. It is a wonderful city to explore, and it is worth visiting the hip, ruinous 17th century neighbourhood of Casco Viejo.
If you want rainforests, beaches or cool mountains then they are all to be found in Panama. Check out the perfect beaches of Bocas del Toro Archipelago, visit the rainforest and waterways of Darién Gap, and head to the mountain town of Boquete for a cooler climate.
Panama has some of the most beautiful sunsets and sunrises a country can offer and some delicious delicacies to nibble on while admiring the views. A traditional drink is chicheme, a milk drink with sweet corn, cinnamon and vanilla that wouldn't taste quite right anywhere else in the world.
There are also some lovely national parks worth visiting including Parqu Nacional Coiba where you can snorkel with sharks and sea turtles and Parque Nacional Volcán Barú, which is great for treks.
Understandably, a great deal of Panama's economy relies on the Panama Canal. The main services and industry within the country include operating the canal, logistics, banking, insurance, container ports and tourism.