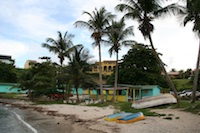 Book cheap flights to Puerto Rico by selecting an airport destination in Puerto Rico below. Compare flights to Puerto Rico from over a hundred airlines worldwide and book online with us today.
This Caribbean island, which lies near the Dominican Republic and Cuba, is a delightful mix of old Spanish ways, African tradition and modern America.
Its capital San Juan is a beautiful walled cobblestone paved city filled with music, bars and restaurants, where it is easy to lose days soaking up the vibrant atmosphere. The 500 year-old centre of the nation is easy to get to as it is home to the Luis Munoz Marin International Airport.
There is plenty of history to be found in Puerto Rico. The country is home to the enormous Spanish fort of Fuerte San Felipe del Morro, dating back to the sixteenth century. It is also worth paying a visit to Ponce, which boasts some of the country's finest criollo architecture.
However, it is also an island which has been blessed by Mother Nature. It has tropical rainforests at El Yunque and dry forests with an array of fauna at Bosque Estatal de Guánica. The nature reserves of Vieques were formerly used for target practice, but today are open to the public.
No trip to Puerto Rico would be complete without spending some time on its beautiful beaches. Condado offers some of the best beach partying, while Rincón has some great diving spots and a hippy feel to it. Not to mention, the sands of Culebra are home to turtles.
Puerto Rico has a dynamic economy with an abundance of dairy and livestock farming, as well as sugarcane, coffee and fruit production.