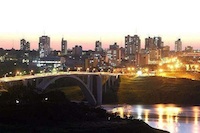 Book cheap flights to Paraguay by selecting an airport destination in Paraguay below. Compare flights to Paraguay from over a hundred airlines worldwide and book online with us today.
Tucked away between Bolivia, Argentina and Brazil, Paraguay is a hidden gem in South America. An incredibly varied country, do not be surprised to see horse drawn carts and luxurious cars on the same road.
The Silvio Pettirossi International Airport, in Luque – a suburb of the capital Asunción – is the main national gateway for Paraguay, making the country easily accessible.
There is a great choice of things to see and do in the country, including Itaipu - one of the world's largest hydroelectric dams, which provides 90% of the country's energy.
If you want to see some of South America's finest wildlife head to Parque Nacional Defnsores del Choco where you will be able to find jaguars, tapir and birdlife - or go horse riding at the beautiful Laguna Blana.
Leisurely boat rides up the Rio Paraguay are available where you will be able to spot monkeys, macaws and other wildlife. Leisure is the key word for this country. The locals are notoriously laid back, enjoying long siestas, and life is enjoyed at a slower pace here.
Its Carnival of Encarnación rivals the better known carnival of Rio and the country is also home to the Unesco World Heritage Site of Jesuit Missions of Trinidad and Jesus' 18th century colonial remnants.
There are thousands of microenterprises and urban street vendors in Paraguay. Another big industry in the country is the export of imported consumer goods to neighbouring countries. Paraguay is the sixth largest soy producer in the world and a large percentage of the population earns their living through agriculture.