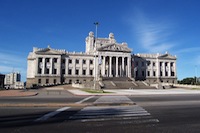 Book cheap flights to Uruguay by selecting an airport destination in Uruguay below. Compare flights to Uruguay from over a hundred airlines worldwide and book online with us today.
The country of Uruguay is based in South America and is situated between Argentina to the west and Brazil to the north.
The capital city of Uruguay is Montevideo, and other large cities in the country include Salto, Paysandu, Las Piedras and Rivera.
Uruguay (which means river of the colourful birds), has a mostly low-lying landscape with Cerro Cathedral being its highest point at 514m high. The main places that are of interest to visit in Uruguay include Montevideo, Chuy, Colonia and Durazno. The main airports in Uruguay are the International Airport of carrasco which is in Montevideo, the International Airport Curbelo and the International Airport Laguna de los Patos.
Montevideo is a town that is situated on the east bank of Rio de la Plata and has a great deal of things to see which include Ciudad Vieja, Plaza de Independecia, Palacio Salvo and Mausoleo de Artigas. Chuy is situated in the region of the Atlantic Coast in Uruguay and its main street borders Uruguay and Brazil. Like Montevideo, Colonia is also situated in the Rio de la Plata region of Uruguay and is filled with many old colonial buildings and cobbled streets with its main attraction being its historic centre that plays host to nine small museums.
Major industries in Uruguay include Agriculture, cement and fishing as well as wool and textiles and tourism.