Montevideo Cheapest Fares
To search and book flights to Montevideo in 2020 and 2021, please enter your requirements and click the search button above.
Montevideo, the Vibrant and Cosmopolitan Capital of Uruguay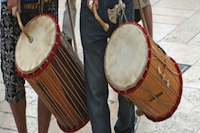 Montevideo, the capital of Uruguay, is a vibrant and cosmopolitan city with plenty to enjoy including its mild climate. It is an ideal holiday destination, with museums, restaurants, a lively old city and the annual Montevideo Carnaval. The festivities include music, dance, comedy, theatre and drumming, so there is something for everyone.
"Carnaval", which is considered to be a major national festival in Uruguay, takes place annually with an opening parade of singers, dancers, musicians and other entertainers, each January. The Montevideo Carnaval is the longest in the world and can last over a month. The locals decorate their homes and streets and comedy shows are held in open-air theatres. The diverse population of Uruguay is united in the colour and extravagance of the Carnaval.
One feature of the Montevideo carnival is the Parade of the Calls, which recalls the days of the colonial slave trade in the country. The carnival came to life as a way for these communities to remember their roots whilst living in this new continent. Locals enjoy watching the murga and llamadas, two strong Uruguayan traditions. Murga is a type of street performance originating from Spain, where the artists combine song and theatre with political satire and slapstick comedy. The murga are recognisable by their flamboyant dress and bright make-up. The llamadas are also a great attraction, featuring groups of drummers and dancers competing to be the best performers. Las llamadas translates to "the calls," which the immigrant African population made when they gathered. The variety of artists and performers showcasing their skills in the Montevideo Carnaval makes this a great destination.