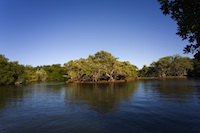 Book cheap flights to Venezuela by selecting an airport destination in Venezuela below. Compare flights to Venezuela from over a hundred airlines worldwide and book online with us today.
Venezuela is located on South America's northern coast, with Brazil to its south, Guyana bordering it on the east, and Colombia bordering it on the west. Its climate is varied, with tropical temperatures at lower levels, but colder temperatures in its mountainous regions.
Simon Bolivar International Airport is the major airport, which is located in Vargas and is about a thirty minute drive from Caracas, the country's capital. Once in the country, you can travel by bus, taxi, or rent a car to drive yourself.
Caracas has a population of over four million people and is a thoroughly modern city with msny interesting things to see and explore, including a very entertaining night life. However, that is not the only thing attractive about Venezuela. The country itself is incredibly diverse, with something to see and do for everyone, and to suit all tastes. To the south of Caracas, visit Amazonas, an Amazonian rain forest. The Guyana Islands are home to Angel Falls, the world's highest waterfall, in the southeastern part of the country. About 40 miles north of the mainland, in the Caribbean Sea, you will find Margarita Island.
Oil exportation, mining, agriculture, and manufacturing comprise much of the economy of this country. It is rich in oil, iron ore, and coal, such that it has a major foothold in the oil industry, and is the sixth largest provider in the world. It also has the world's largest hydrocarbon reserves.