Porlamar Cheapest Fares
To search and book flights to Porlamar in 2022 and 2023, please enter your requirements and click the search button above.
Porlamar pays homage during Semana Santa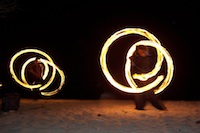 Polamar is by far at its most liveliest from the end of March during Semana Santa or Holy Week. This is the time in which Margarita Island is anything but saintly with the island's nightlife becoming particularly colourful. Visitors can enjoy massive beach parties and crowded clubs. However, there are also religious parades providing travellers with the chance to understand the importance of Christianity within this destination.
Semanta Santa is recognised throughout the whole of Venezuela and Colombia, however particularly in regions where the Spanish colonials settled and built churches. It takes place every year for seven days to celebrate Easter.
Visitors can watch re-enactments of Jesus' trials and tribulations during his last days on earth. On Holy Wednesday, also known as the Culto del Nazareno, the image of Nazarene is paraded around and people can pay homage to it. On Holy Friday, the Via Crucis is performed in which a life size crucified Jesus is carried through the city.
Porlamar is the biggest city on Margarita Island and this destination has a population of about 85,000 people. Once a peaceful fishing village, today it has become an epicentre of the isle with a wide array of shops, restaurants and entertainment venues. Many people come from Europe as well as other regions in Venezuela to take advantage of the attractions, culture and beaches. The island itself is located within the Caribbean Sea and is based just off the northeast coast of the mainland.