13 Death Defying Runways
Juancho E. Yrausquin Airport, Saba (Caribbean)
At approximately 1,300ft in length, this runway is the shortest in the world and significantly too short to accommodate any large aircraft. Occasionally, small planes do land here at Saba (SAB) despite the runway being marked as officially closed. Loomed by cliffs at the end of the landing strip, with high peaked hills the island side, take-off and landing can be treacherous particularly with adverse weather conditions.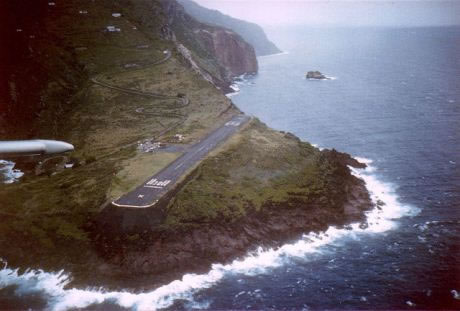 Lukla Airport, Nepal
This runway in Nepal is known to be a combination of all the hardest landing challenges. The high altitude in Nepal means the planes have to travel at a higher speed, the surrounding mountains create a complex landscape to navigate in, and unpredictable wind conditions cause extreme turbulence, all combining to create an intimidating environment for pilots – the Lukla (LUA) runway is also very short at just 1,500ft long.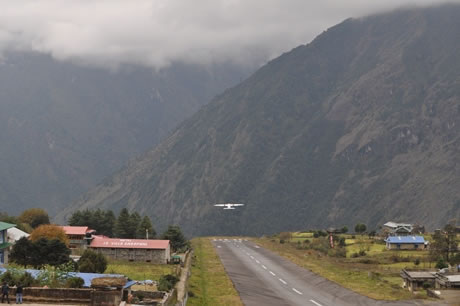 Kai Tak, Hong Kong
Now closed, Kai Tak (HKG) was regarded to be one of the most challenging approaches in history, with a red and white chequered point placed upon a mound to mark where the plane has to begin its sharp turn to approach. Kai Tak was notorious for being demanding for pilots to land with skyscrapers and difficult terrain around Kowloon at the time. Not to mention some of the strong crosswinds that swept across the Victoria Harbour.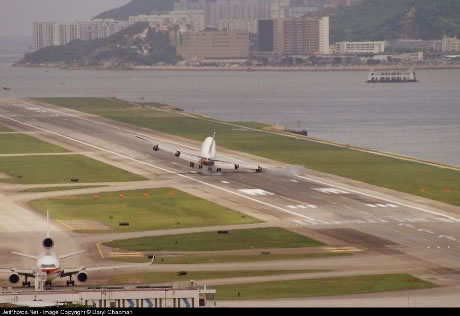 Madeira, Portugal
Carved out of the side of the mountain, this runway in Madeira (FNC) is supported by metal girders, as opposed to a more traditional landing strip. Strong canyon winds from two different directions make this runway in the Atlantic Ocean particularly difficult to land, and following a high profile airplane disaster, the runway was extended to improve safety.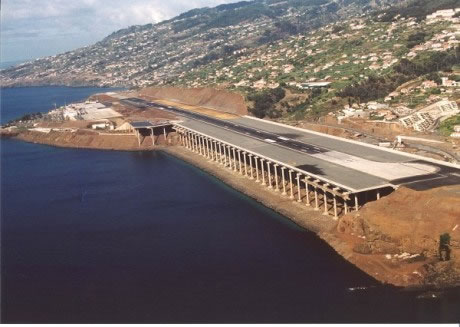 Courchevel, France
The Courchevel (CVF) ski resort in the French Alps has one of world's most hazardous approaches; the runway is very short at 1,722ft, has an 18.5% gradient, and is surrounded by busy ski runs.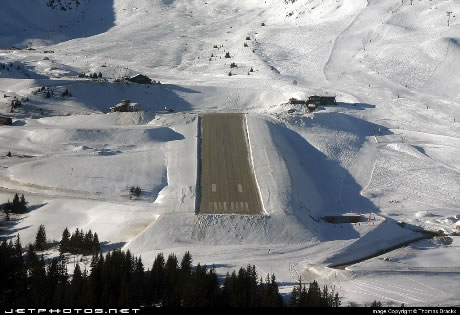 Toncontin International Tegucigalpa, Honduras
Regarded as one of the most difficult approaches anywhere on the planet, Toncontin (TGU) has a history of accidents and incidents. Significant efforts were made in 2009 to improve safety for aircraft, including the lengthening of the runway and the bulldozing of a large portion of the hillside located at one of the runway, which caused many issues in the past.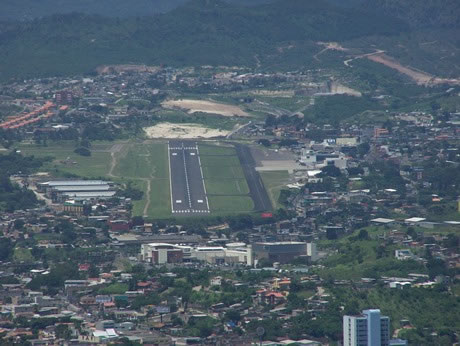 Gibraltar Airport
You're probably familiar with a level crossing to allow trains to pass through an intersection with a road, but what about at an airport? The runway at Gibraltar Airport (GIB) runs between a four lane highway connecting the territory to mainland Spain, which needs to be closed when planes land and take off.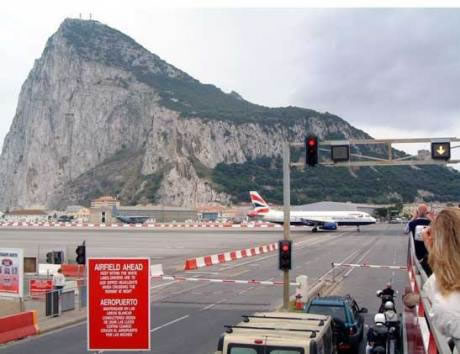 Princess Juliana Airport, St. Martin (Caribbean)
Princess Juliana Airport (SXM) is renowned as one of, if not the best spot to view aircraft up close and in action. This is because the flight path passes literally above the now famous Maho Beach which backs onto the runway! Local residents and visiting tourist are even warned about getting too close to the low flying aircraft, as close proximity can cause injury by jet blast.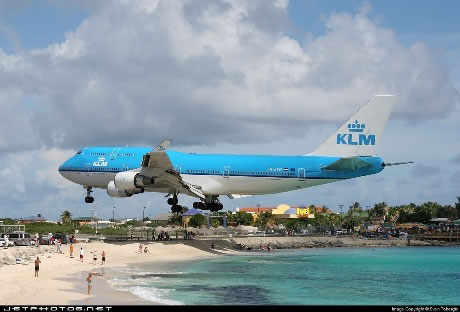 Gustaf III Airport, St. Barts (Caribbean)
Gustaf III Airport (SBH) on the French island of St. Barts in the Caribbean is another airport with a short runway at just 2,133ft long. Not only does the small runway cause difficulties, but aircraft have to make their approach at a difficult angle to avoid the hill from the east. Pilots even require a special licence to land at this airport.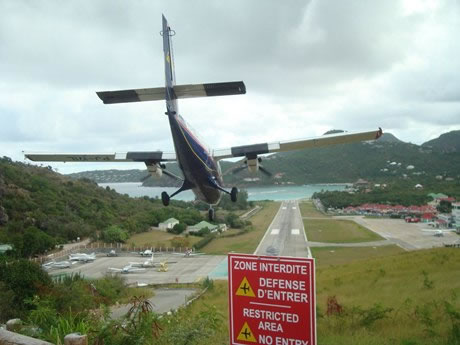 Vail Airport, Colorado, US
Servicing some of the US's most popular ski destinations, Vail Airport (EGE) is regarded as the most challenging runway approach in the continental US. Mountainous terrain, challenging departure procedures, high altitude and extreme weather conditions all mean that the approach into Vail is extremely treacherous.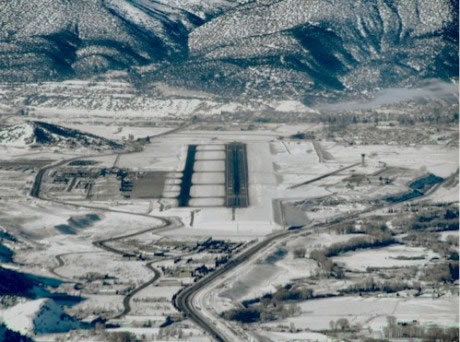 Matekane Air Strip, Lesotho, Africa
This small landing strip in mountainous Lesotho, Africa, is situated at 7,500ft in altitude, but the alarming fact about Matekane is the 2,000ft cliff drop at one end of the runway. If you're a pilot who is planning on landing here, make sure those brakes are in good working order!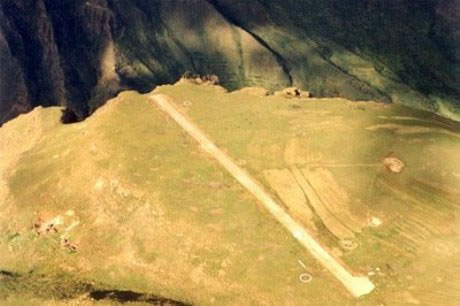 Ice Runway, Antarctica
Ice Runway is the principal runway used by the US Antarctic Program, and is so dangerous that it can only be used 9 months of the year. Between December and March, the ice on which the runway sits is regarded as too weak and unstable.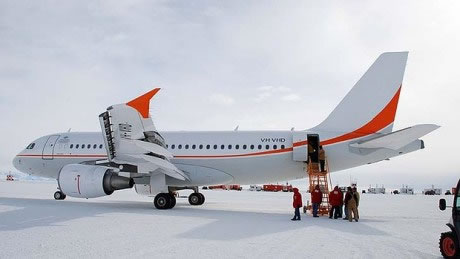 Paro Airport, Bhutan
Due to its extreme level of difficulty for pilots, Paro Airport (PBH) is perhaps the most restrictive airport in the world. Only a handful of pilots (8) are licensed to land at Paro, and flights are restricted to daylight hours only, and only after being approved by strict visual meteorological conditions. Tucked away in the steep Himalayan Mountains, Paro is situated at an elevation of 7,300ft and is surrounded by sharp peaks up to 18,000ft tall.