Just the Flight Launches 'The Delay Pod'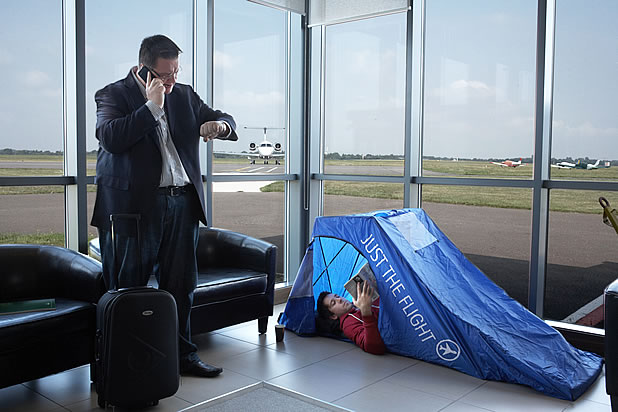 Queuing? It should be an Olympic sport!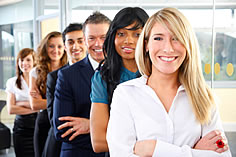 Here in Britain, we love nothing more than to queue. Whether it's for the bank, coffee, or to stroke a cat, there's nothing we do better.
It only makes sense that our nation's airports would ensure that our holidays start off on the best foot, by putting our queuing skills to the test; letting us stand in line for hours, out of the goodness of their hearts. Bless their cotton socks.
Aaaargh, nooooo! Delayed again!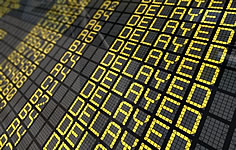 While as a nation we excel at queuing, we most definitely do not do well when it comes to hanging around and waiting for no apparent reason (or if say a thin sheet of fog suddenly appears, and apparently grounds every plane across the country). Enter the dreaded flight delay.
So when yet another delayed notice flashes up on your flight, airport lounges lose a lot of their charm - there really is a limit to the amount of times one can wander round Tie-Rack without losing it. So, here at Just The Flight, we thought we'd try to preserve the nation's sanity, with the help of the Delay-Pod.
Fear not, help is at hand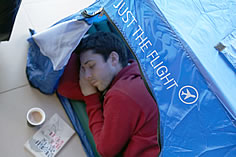 The Delay-Pod brings airport fun and comfort to a new level. Say goodbye to standing on achy legs or trying to get comfortable on rows of metal seating while shielding your phone or book from nosey neighbours, and revolutionise your travel experience. Based on the pop-up tent, the Delay Pod assembles easily and quickly, and needs no tent pegs or guy-lines: perfect for replenishing sanity in an ever-growing hive of frustration.
Whoa, that is so cool.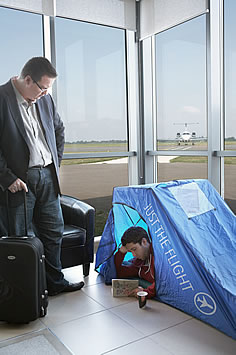 We know. For the bargain price of £99 GBP, you can restore your faith in the airport lounge and be the envy of your fellow - but less equipped - travellers, so call our sales team on 01481 242 200 to add it to your booking!