Azerbaijan Airlines Flights and Routes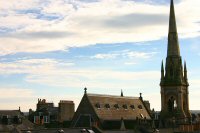 Azerbaijan Airlines is the state owned airline of Azerbaijan and flies domestically and to destinations throughout Asia, Europe and the Middle East
Azerbaijan Airlines, which is based at Baku Heydar Aliyev International Airport, has increased the frequency of its service between the country's capital, Baku and Aberdeen, to two flights per week. This long-haul route is flown by the company's Airbus A319's, which have the capacity to take 90 economy class passengers and 24 in business class.
The airline has reached a codeshare arrangement with Eastern Airways, which is a UK regional airline based at Humberside Airport. Eastern Airways has agreed to provide Azerbaijan Airlines passengers with a connection from Aberdeen to Norway, along with a wide range of domestic destinations within the UK. In addition, Azerbaijan Airlines has established a special ticketing agreement with Eastern Airways to improve their customer's flying experience.
Aberdeen is one of the key centres of Western Europe's oil industry and as oil is also a leading commodity in Azerbaijan, this new route will be an important link for those involved in it. As well as offering a business class product, the codeshare with Eastern Airways enables the airline to also offer connections to Norway, another major oil exploration centre.