Moscow Cheapest Fares
The lowest fare found to Moscow (DME) was £109 with Ural Airlines. The fares shown here are the lowest flight prices to Moscow obtained in actual searches by Just The Flight customers. To search and book flights to Moscow in 2022 and 2023, please enter your requirements and click the search button above.
Moscow International Film Festival is a Worldwide Hit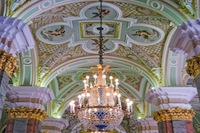 The world famous Moscow International Film Festival is one of the oldest film festivals in the world and has become a major attraction for film fans and travellers seeking something to supplement the traditional draws of this major tourist destination.
The festival was first held as far back as 1935 and the jury was chaired by Sergei Eiseshtein, the man considered the 'father of montage cinema'. The event became regular in 1959 and has been an annual occurrence since 1995. Actors such as Jack Nicholson and Meryl Streep have been presented with outstanding actor award in recent times.
The festival takes place in June and is noted for mirroring the socio-political changes in Russia, a country immersed in history and culture. Around 200,000 people attend the festival, making it truly a major attraction worthy of a visit for anyone with an interest in film or Russian culture.
Moscow is the most northern city on earth, with a population of more than 10million people, and is the most populous in Europe. With its outstanding architecture and cultural and financial significance, Moscow is a destination not to be missed. Travellers can take a flight into Domodedovo International Airport and base themselves in one of the city's many hotels.
The Kremlin is home of the Russian government and is one of the many World Heritage Sites that Moscow has to offer. The Kremlin sits on the famous Red Square, considered by many as the central square of Moscow and of Russia itself.