Adler-Sochi Cheapest Fares
To search and book flights to Adler-Sochi in 2021 and 2022, please enter your requirements and click the search button above.
Film and fun in Adler-Sochi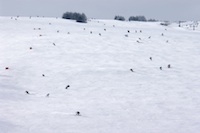 Russia's rich culture, as well as all the conveniences of modern society, are available in the resort destination of Sochi.
With a population of more than 700,000 people and an international airport in the Adler district of the city, access is easy and there is so much to do. A huge resort area, Sochi is the site of the 2014 Winter Olympics and hosts many smaller sporting events each year, particularly snow events.
During the summer, Sochi hosts the Kinotavr Film Festival. This ten-day event features films from around the world from producers and directors big and small. The rich and famous fly in for the event and there are parties and screenings until the early hours. The competition between films, actors, producers and others is intense, and the town is crowded with the famous and not-so-famous. During the opening of the festival people line up along the 'Star Walk' to see the most popular actors and actresses enter the Winter Theatre.
The film festival is held at the famous Zimny Theatre, and movies are screened both inside the theatre as well as at several venues surrounding it.
The stars of the films, the producers, and others associated with the movies are much more accessible here than at many other locations, so this is a perfect place to not only catch some fabulous movies, but get some autographs and be seen with the stars. The 2011 festival featured 14 full-length movies and more than 200 short films, so you can indulge your passion for cinema both day and night at this destination.