St Petersburg Cheapest Fares
To search and book flights to St Petersburg in 2022 and 2023, please enter your requirements and click the search button above.
Step into History with St Petersburg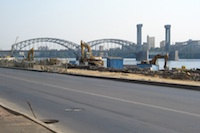 Located in the north-west pocket of Russia at the Guld of Finland, St Petersburg, the Venice of the North, is a unique and stunningly beautiful city richly deserving of its title of culture capital of Russia.
The city is a popular destination and boasts an impressive number of famous landmarks including the Summer Palace and Gardens of Tsar Peter the Great, the Menshikov Palace and State Museum and The Hermitage, an extensive collection of artworks with over three million pieces (and growing) it is the largest collection of artwork and artefacts in Russia and has been featured on many television programmes around the world.
A great way to see the city is via a day tour and St Petersburg offers three ways to do this: by car, on foot or by boat along the rivers and canals of the city.
Make sure you try Pirozhk, a delicious savoury pie and Fish Under A Fur Coat, fish fillets covered with beetroot, potatoes, carrots and mayonnaise washed down with Russian beer, a firm favourite with the locals.
May 9th is Victory Day and a large military parade takes place in Palace Square. If you visit during the later part of June, you will see the White Nights Festival, a celebration of the 'midnight sun' and a twilight lasting less than an hour. During this time, the city never sleeps and visitors can enjoy a never-ending selection of concerts, celebrations and street parties.