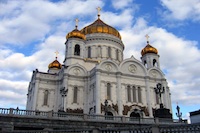 Book cheap flights to Russian Federation by selecting an airport destination in Russian Federation below. Compare flights to Russian Federation from over a hundred airlines worldwide and book online with us today.
Stretching across 11 time zones, the size and sheer diversity of Russia should not be underestimated. From majestic cities like its capital Moscow and St Petersburg, to sights of natural wonder like the epic Lake Baikal, there is so much to see and do in this country.
Russia has several major and regional airports that provide easy access to parts of the country which are harder to get to. Its main airport is Moscow Domodedovo Airport.
The capital boasts stunning tsarist palaces juxtaposed to Stalinist architecture and skyscrapers. Some of the city's most striking architecture and striking cathedrals can be found at the Kremlin. Meanwhile, St Petersburg has the impressive 18th century Hermitage Museum, a former palace which now homes some of the world's finest art collections. Just outside of the city is the imperial estate of Tsarskoe Selo with extravagant palace halls and beautifully manicured gardens.
Escaping the cities, Russia has the world's largest forest (the tagia). Kamchatka has some of the country's most remote and beautiful forests, with snow covered volcanoes and herds of reindeers. And the deep, clear water of Lake Baikal can be found on Olkhon Island.
While it is very easy to fly across Russia, it also has the Tran-Siberian Railway from Moscow to Vladivostok, which is a popular way to take in the vast expanse of land. Russia has an extensive range of mining industries which produce coal, oil, gas, chemicals and metals. Defence industries remain important to the country, as well as vodka production.