Vladivostok Cheapest Fares
To search and book flights to Vladivostok in 2021 and 2022, please enter your requirements and click the search button above.
Vladivostok open to the general Public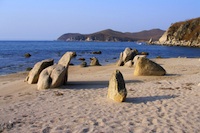 Before the late 20th century when the USSR still reigned supreme over Russia and most of its islands, the destination of Vladivostok, Russian Federation was off limits to tourists and most Russians. This has now changed, allowing boatloads of Chinese, Korean, Japanese and other summer tourists into the country.
Vladivostok is a port city with a cosmopolitan atmosphere. Ferries take visitors to beaches that were once navy-only islands. On these islands, tourists are permitted to tour the old forts. Many of the forts are centuries old, displaying a long history of Russian culture and ingenuity. Vladivostok was founded in 1860 as a naval base. Soviet submarines which are no longer used in active service are also available for tours on these islands. Throughout the 19th and 20th centuries, Vladivostok was filled with merchants, sailors, and speculators from Shanghai and Hong Kong rather than from Moscow. The Koreans and Chinese are credited with most of the architecture and formation of the city.
The city has a reputation in the Far East as a premier location to visit for its peaks and peninsulas near to Golden Horn Bay. It is home to the Russian Pacific Fleet and some impressive icebreakers, which add to the experience one has in Vladivostok. September and October are the best months to travel to the Russian Federation for those who want to see the sun and enjoy the beaches. Other times of the year can be somewhat wet and foggy, and winter can be extremely cold.